How to Reach Us
Our Museum Policies
Our Museum Board for 2021-2022
Chair  - Greg Oster
Secretary - David Bocking
Treasurer - Greg Oster
Curator - Brenna Scarfe, Markus Blumrich to assist.
Groundskeeper - Markus Blumrich
Multimedia Officer(s) - Rob Grosse, Kevin Lowey to assist.
Members at Large:

Anne Cavanaugh
Geoff Koehler
Kevin Lowey
Rob Merritt
Interested in Volunteering?
Are you affiliated in any capacity with the UofS (faculty, faculty

Emeritus

, staff, student, alumni) and have a little time you could spare? We would love to hear from you. There is no minimum time requirement for volunteering with us - so long as your attendance is somewhat regular. Contact us using any of our various methods listed here.
Our Regular Meetings:

Our AGM (Annual General Meeting) is each October where members of the public are invited to partake and get to know us. We meet in the Spinks Addition, UofS Campus Room S342; contact us for more information regarding meeting time.
Regular Board meetings are monthly excluding the summer months.
Museum Origin Story
The University of Saskatchewan Computer Museum was first conceived of in late 2001, over lunch at the Faculty Club. Further meetings came of this, and on February 8th, 2002, the museum was formed, again over a swanky Faculty Club buffet. The original pioneers that attended these meetings were Rick Bunt, Merlin Hansen, Greg Oster, David Schwab, Terry Roebuck, and Robert Grosse.
At our first official meeting, Rob Grosse stood up and said "We need to hold meetings every month to be effective and keep people on track". Rick Bunt replied, "Agreed; since you suggested it, you can chair them." That's how Rob became the first Chair of the Museum. Rob served in that role from 2002 to 2012.
Building a Museum
The early years of the museum involved collecting equipment, software, and other artefacts. Then, in March of 2004, the Museum was invited to participate in a technology history display on the main floor of the Murray Library. This Display was developed by a student in the College of Engineering; the Museum added to it from our collection: an early IBM XT 5150 microcomputer, and an early IBM ThinkPad laptop. This was the Museum's public debut as an organization, and the display was available for viewing until September, 2004.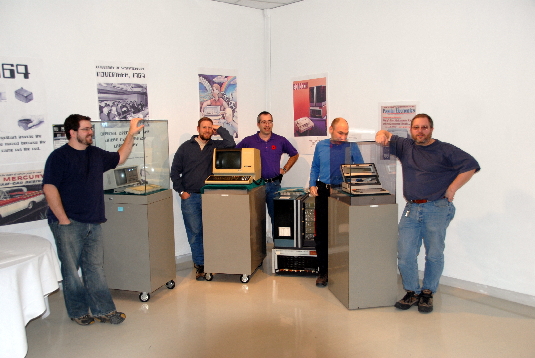 In August, 2005, a decision was made to pursue a physical home for the museum's growing collection. Museum financials had to be setup to accomodate a lease agreement, and in the process the museum became a formal and recognized University organization. As of March 2006, the Museum had secured both a storage facility and several public facing display cases around campus.
Since 2006 we have spent time on several initiatives:
We were added as an available UofS Donation recipient (for people who wish to make a monetary donation to the museum) https://donate.usask.ca/
We have explored and dabbled with a few inventory database systems.
We have become a member of the Museum Association of Saskatchewan http://saskmuseums.org/
We have created a photo archive on FLIKR.